Wow, 2010 has been a crazy, fun-filled, full-of-surprises year for me. I've been unbelievably blessed this year and my family has been as well. I can't believe tomorrow will be 2011. I remember being in junior high back in the mid-90s and people would say, "I bet by 2010 we'll be driving flying cars and have robot maids." Not quite. Although Joan Rivers is fast becoming creepily similar to Barbie - in her 60s. I bet she'll be the first robot chick. With lip injections.
I figured the best way to recap the year is to just list the high points of the year for me. Some of the events are from other people - sports teams, celebrities, etc., but they all contributed to making this year an awesome one!
January 24, 2010 - NFC Championship game at the Superdome in New Orleans with my New Orleans Saints beating the Minnesota Vikings 31-28 in overtime after Garrett Hartley kicked a beauty of a fieldgoal. Saints going to the Superbowl for the first time in franchise history!
February 7, 2010 - My New Orleans Saints beat the Indianapolis Colts 31-17 in Superbowl XLIV. Who dat! Bless you boys!
February 9 - Parade held in New Orleans celebrating the awesome season of our Saints kicks off Mardi Gras Carnival Time. Attended too many parades and nearly froze to death in the process, but had a ball. Laissez les bon temps rouler!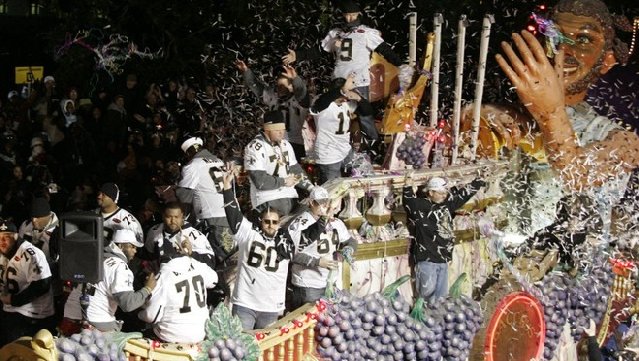 February - Winter Olympics are always fun, but the US tore it up this year! I loved watching Bode Miller, Shaun White, Julia Mancuso, Evan Lysacek, Apollo Ohno and Lindsey Vonn do their thing. I don't care what the sport is, I'll watch it!
March - Took a short four-day trip to Tennessee to visit the fam, and had a great time. Went to my most favorite place in the world, Cades Cove.


April - Made the decision to return to school. Thought I was crazy.

May 6 - My birthday!


The summer was basically spent with me reading People Magazine and US Weekly, watching Friends and Dexter reruns and wondering if they really would send Lindsay Lohan to jail this time....

August 18 - First day back at school. I was terrified and thrilled. So glad I went back!

September 1 - Celebrated my three-year anniversary with the Hubs. Yay! I also hit my 100th post milestone that same week.


September 2 - NCAA Football Season began. Yes.

September 9 - NFL Season officially begins in the New Orleans Superdome with my Boys hosting the Minnesota Vikings. My boys won 14-9. Again, Who Dat!

For most of September, October and November I did a lot of studying and watching football. That's about it.

December 9 - Took the last final of my first semester back at school, finished out the semester with a 3.68 GPA and made the President's List. Wohoo!


December has been nothing but Christmas, Christmas, Christmas!

Had a wonderful time with my family this year, as we do every year. My girls had an awesome Christmas and received way too many gifts. We were definitely blessed.

In retrospect, the year was kind of uneventful if you take away the sports excitement. It was still a good year though. My babies are healthy, I love my husband, my family is well and all is good in my hood!


What was the best moment of 2010 for you guys?

I wish you all a blessed, wonderful and happy new year! Salud!

Also, a huge THANKS to my guest bloggers for the week. You guys rock my socks off! Love y'all!